---
Split solar heating system with two copper coil inside water tank
SS-M2
Send Inquiry
Share to:
---
Description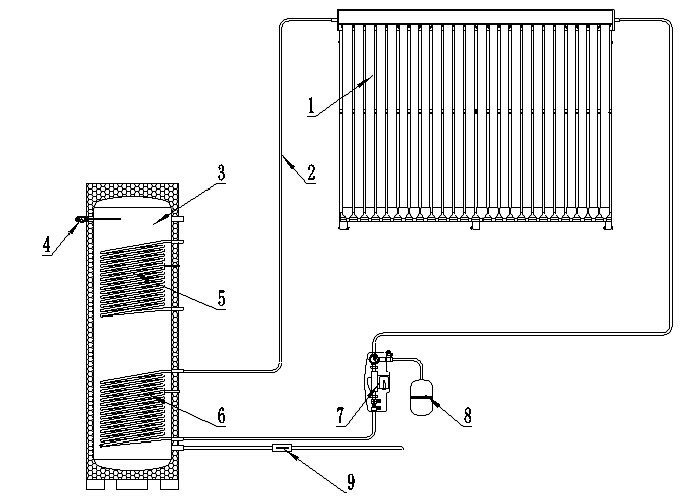 Product Features:
1.Food-grade stainless steel SUS304-2B inner tank,Maximum anti Pressure1MPa
2.Copper coil heat exchanger, high heat transfer efficiency.
3.Double Copper coils heat exchanger, Can be combined with auxiliary electricity, gas and other boiler to Auxiliary heating, Achieve all-day hot water.
4.High Efficiency Heat Pipe solar collectors, three target vacuum tube、Collector and roof Combined beautiful, Easy installation.
5.Integrated workstation,different Temperature cycle,make system Efficient and energy saving.
6.Install the location of water tank no limited, Can be installed according to the layout of the room.
iled Product Description: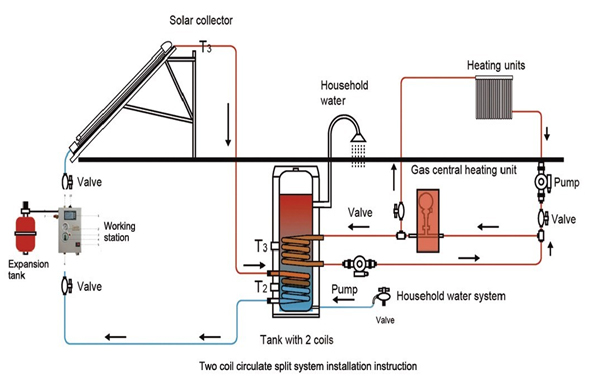 Technical Data: 
| | | | | | | |
| --- | --- | --- | --- | --- | --- | --- |
| System model | SS-M2-150 | SS-M2-200 | SS-M2-250 | SS-M2-300 | SS-M2-400 | SS-M2-500 |
| Tank capacity(L) | 150 | 200 | 250 | 300 | 450 | 500 |
| Copper coil qty | 1/2 | 1/2 | 1/2 | 1/2 | 1/2 | 1/2 |
| Solar collector model | SC-H-15/20 | SC-H-20/24 | SC-H-25/30 | SC-H-30/20 | SC-H-20/24 | SC-H-25/30 |
| Solar collector qty | 1/1 | 1/1 | 1/2 | 1/2 | 2/2 | 2/2 |
| Controller model | SR868C8 | SR868C8 | SR868C8 | SR868C8 | SR868C8 | SR868C8 |
| Work station model | VSP-S1 | VSP-S1 | VSP-S1 | VSP-S1 | VSP-S2 | VSP-S2 |
| Expansion tank spec | 12L | 12L | 18L | 18L | 24L | 24L |
| Medium volume | 12L | 12L | 18L | 18L | 24L | 24L |
| Recommended Flow | 1.0~2.0L/min | 1.2~2.5L/min | 1.5~3.0L/min | 3.0~5.0L/min | 4.0~7.0L/min | 5.0~8.0L/min |
| Max temperature of tank | 95℃ | 95℃ | 95℃ | 95℃ | 95℃ | 95℃ |
| Max temperature of system | 95℃ | 95℃ | 95℃ | 95℃ | 95℃ | 95℃ |
| Rated pressure of the tank | 0.7MPa | 0.7MPa | 0.7MPa | 0.7MPa | 0.7MPa | 0.7MPa |
| Media pre pressure | 0.2~0.3MPa | 0.2~0.3MPa | 0.2~0.3MPa | 0.2~0.3MPa | 0.2~0.3MPa | 0.2~0.3MPa |
| Max pressure of system | 0.6MPa | 0.6MPa | 0.6MPa | 0.6MPa | 0.6MPa | 0.6MPa |
| Voltage | AC220V 50Hz | AC220V 50Hz | AC220V 50Hz | AC220V 50Hz | AC220V 50Hz | AC220V 50Hz |
| Recommended pipe diameter | φ15 | φ15 | φ15 | φ15 | φ22 | φ22 |