---
---
Description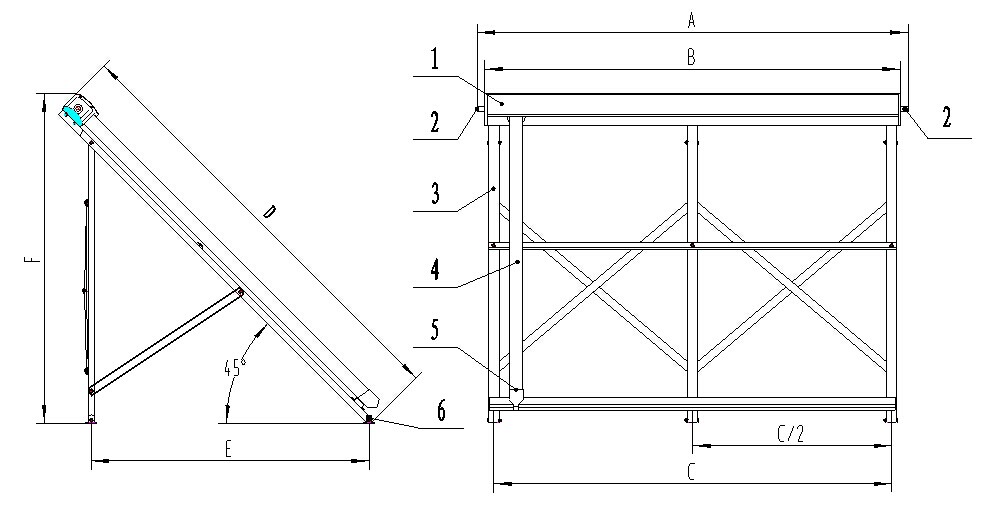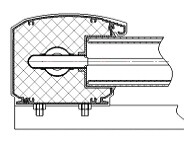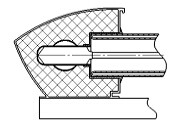 Product Structure:
1,Solar collector manifold ; 1.1 Manifold shell; 1.2 Thermal insulation; 1.3 Inner tank;
2,Solar collector connector
3,Solar collector bracket
4,All glass vacuum tube; 4.1 Vacuum tube; 4.2 Aluminum fin; 4.3 Heat pipe
1,All glass vacuum tube, high temperature, Antifreeze, Vacuum insulation
2,Super conducting copper heat pipe, hight heat transfer speed, Starting temperature low, low temperature resistant.
3,All aluminum alloy shell and bracket, do oxidization or spraying plastics anticorrosion treatment. anti-corrosion, handiness easy to install.
4, Thermal Insulation layer use high temperature resistant rock wool/glass wool,compression molding,High density, Small coefficient of thermal conductivity
5,Inner tank use Proof Pressure, anticorrosive ,High purity high quality brass processed, Can withstand pressure 1 Mpa
6,The gravity heat pipe one-way heat transfer, collector efficiency high, Small heat loss
7, Through Europe's authoritative testing institutions test, and get SOLARKEYMARK.
8,All kinds of collectors, Can design to meet customer demand, integrated structure , Flat roof and pitched roof all can be installed, transportation, easy installation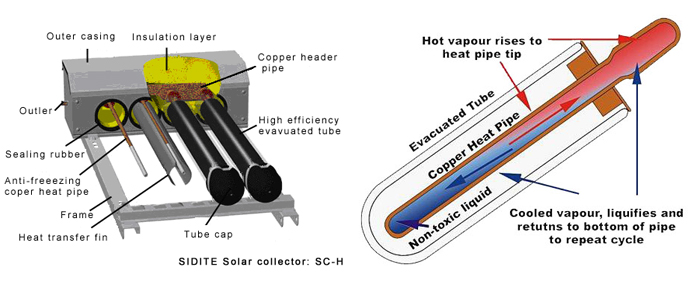 Technical Data:
| | | | | | | | |
| --- | --- | --- | --- | --- | --- | --- | --- |
| Model | SC-H-10 | SC-H-15 | SC-H-18 | SC-H-20 | SC-H-24 | SC-H-25 | SC-H-30 |
| Type | SC-H1-10 | SC-H1-15 | SC-H1-18 | SC-H1-20 | SC-H1-24 | SC-H1-25 | SC-H1-30 |
| Vacuum tube quantity(pcs) | 10 | 15 | 18 | 20 | 24 | 25 | 30 |
| Tube spacing (㎜) | 75 | 75 | 75 | 75 | 75 | 75 | 75 |
| Vacuum tube diameter/length (㎜) | φ58/1700 | φ58/1700 | φ58/1700 | φ58/1700 | φ58/1700 | φ58/1700 | φ58/1700 |
| Vacuum tube material |  high borosilicate glass 3.3 |  high borosilicate glass 3.3 |  high borosilicate glass 3.3 |  high borosilicate glass 3.3 |  high borosilicate glass 3.3 |  high borosilicate glass 3.3 |  high borosilicate glass 3.3 |
| Vacuum tube inner/outer pipe wall thickness (㎜) | 1.6/1.8 | 1.6/1.8 | 1.6/1.8 | 1.6/1.8 | 1.6/1.8 | 1.6/1.8 | 1.6/1.8 |
| Heat pipe condensing end diameter/length (㎜) | φ14/1750 | φ14/1750 | φ14/1750 | φ14/1750 | φ14/1750 | φ14/1750 | φ14/1750 |
| heat pipe material/wall thickness (㎜) | Copper tp2/0.6 | Copper tp2/0.6 | Copper tp2/0.6 | Copper tp2/0.6 | Copper tp2/0.6 | Copper tp2/0.6 | Copper tp2/0.6 |
| inner tank diameter/wall thickness (㎜) | φ35/1.0 | φ35/1.0 | φ35/1.0 | φ35/1.0 | φ35/1.0 | φ35/1.0 | φ35/1.0 |
| connector size | φ22 or 3/4″ | φ22or 3/4″ | φ22or 3/4″ | φ22or 3/4″ | φ22or 3/4″ | φ22or 3/4″ | φ22or 3/4″ |
| collector insulation material/thickness (㎜) | Rock wool/40 | Rock wool/40 | Rock wool/40 | Rock wool/40 | Rock wool/40 | Rock wool/40 | Rock wool/40 |
| solar collector rated pressure (MPa) | 0.6 | 0.6 | 0.6 | 0.6 | 0.6 | 0.6 | 0.6 |
| collector operating temperature ℃ | <100 | <100 | <100 | <100 | <100 | <100 | <100 |
| collector volume (L) | 0.69 | 0.98 | 1.15 | 1.27 | 1.50 | 1.56 | 1.85 |
| collector aperture area (㎡) | 1.0 | 1.5 | 1.8 | 2.0 | 2.4 | 2.5 | 3.0 |
| collector total area (㎡) | 1.56 | 2.30 | 2.74 | 3.04 | 3.63 | 3.77 | 4.51 |
| referral traffic (L/min) | 0.75 | 1.13 | 1.35 | 1.50 | 1.81 | 1.88 | 2.26 |
| intensity pressure (Pa) | 23.2 | 59.2 | 90.6 | 116.7 | 181.7 | 200.2 | 314.0 |
|  intercept efficient η0 | 0.744 | 0.744 | 0.744 | 0.744 | 0.744 | 0.744 | 0.744 |
|  heat loss coefficient a | 2.09 | 2.09 | 2.09 | 2.09 | 2.09 | 2.09 | 2.09 |
|  collector power (W)1000W/㎡ irradiation | 620 | 870 | 1047 | 1165 | 1401 | 1457 | 1748 |
| collector net weight (kg) | 38.25 | 50.75 | 59.75 | 64.75 | 79.00 | 83.35 | 98.70 |
| a   (㎜) | 895 | 1270 | 1495 | 1645 | 1945 | 2020 | 1395 |
| b   (㎜) | 800 | 1175 | 1400 | 1550 | 1850 | 1925 | 2300 |
| c   (㎜) | 725 | 1100 | 1325 | 1475 | 1775 | 1850 | 2225 |
| c/2 (㎜) | —— | —— | —— | —— | 887.5 | 925 | 1112.5 |
| d   (㎜) | 1980 | 1980 | 1980 | 1980 | 1980 | 1980 | 1980 |
| e   (㎜) | 1240 | 1240 | 1240 | 1240 | 1240 | 1240 | 1240 |
| f   (㎜) | 1470 | 1470 | 1470 | 1470 | 1470 | 1470 | 1470 |
| packing size (㎜) |   |   |   |   |   |   |   |