---
Polyurethane foaming insulation solar collector
SC-HP
Send Inquiry
Share to:
---
Description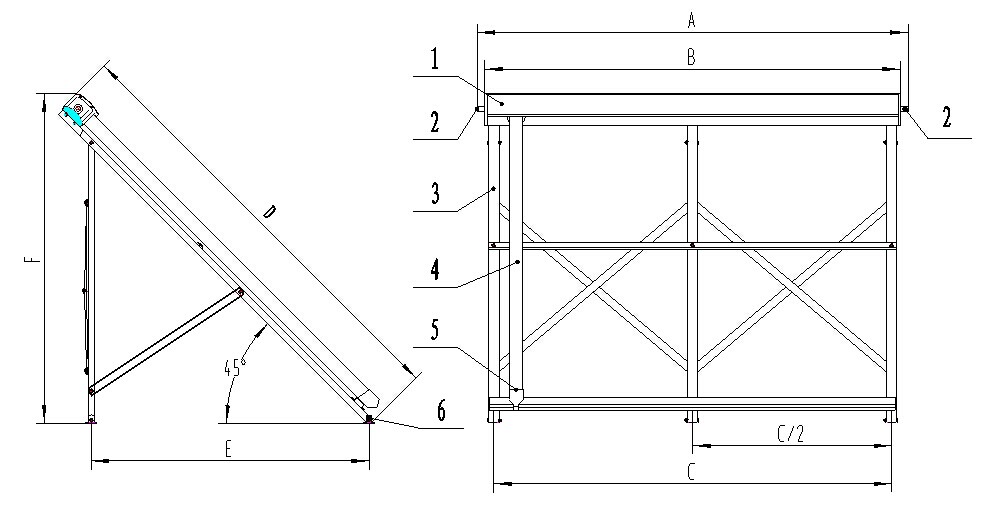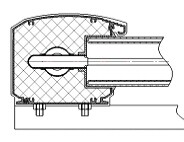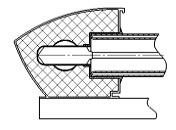 etailed Product Description:
Advantege:
1) The heat insulation properties is higher than for other types of the same collector design. Because of the three layers of insulation incorporated in the mainfold casing.
5) The first layer is Aluminium Silicate and resist temperatures of up to 800℃
3) The second layer is Polyurethane formed by Italian machine that insulates the tanks with a density of 38.5-42.
4) The third layer is Aluminium Silicate
 
Material:
1) Aluminium alloy for frame.
2) Polyurethane and aluminium silicate for the insulation. .
3) Tri-element vacuum glass tube. .
4) Antifreeze heat pipe.
 
Woking environment:
1) -40℃-95℃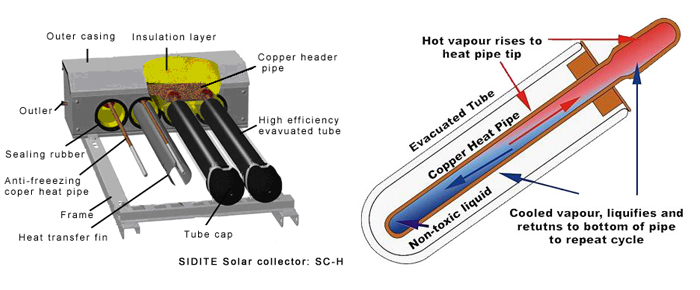 Technical Data:
| | | | | | | | |
| --- | --- | --- | --- | --- | --- | --- | --- |
| Model | SC-HP-10 | SC-HP-15 | SC-HP-18 | SC-HP-20 | SC-HP-24 | SC-HP-25 | SC-HP-30 |
|   | SC-H1-10 | SC-H1-15 | SC-H1-18 | SC-H1-20 | SC-H1-24 | SC-H1-25 | SC-H1-30 |
| Vacuum tube quantity(pcs) | 10 | 15 | 18 | 20 | 24 | 25 | 30 |
| Tube spacing (㎜) | 75 | 75 | 75 | 75 | 75 | 75 | 75 |
| Vacuum tube diameter/length (㎜) | φ58/1700 | φ58/1700 | φ58/1700 | φ58/1700 | φ58/1700 | φ58/1700 | φ58/1700 |
| Vacuum tube material |  high borosilicate glass 3.3 |  high borosilicate glass 3.3 |  high borosilicate glass 3.3 |  high borosilicate glass 3.3 |  high borosilicate glass 3.3 |  high borosilicate glass 3.3 |  high borosilicate glass 3.3 |
| Vacuum tube inner/outer pipe wall thickness (㎜) | 1.6/1.8 | 1.6/1.8 | 1.6/1.8 | 1.6/1.8 | 1.6/1.8 | 1.6/1.8 | 1.6/1.8 |
| Heat pipe condensing end diameter/length (㎜) | φ14/1750 | φ14/1750 | φ14/1750 | φ14/1750 | φ14/1750 | φ14/1750 | φ14/1750 |
| heat pipe material/wall thickness (㎜) | Copper tp2/0.6 | Copper tp2/0.6 | Copper tp2/0.6 | Copper tp2/0.6 | Copper tp2/0.6 | Copper tp2/0.6 | Copper tp2/0.6 |
| inner tank diameter/wall thickness (㎜) | φ35/1.0 | φ35/1.0 | φ35/1.0 | φ35/1.0 | φ35/1.0 | φ35/1.0 | φ35/1.0 |
| connector size | φ22 or 3/4″ | φ22or 3/4″ | φ22or 3/4″ | φ22or 3/4″ | φ22or 3/4″ | φ22or 3/4″ | φ22or 3/4″ |
| collector insulation material/thickness (㎜) | Polyurethane/40 | Polyurethane/40 | Polyurethane/40 | Polyurethane40 | Polyurethane40 | Polyurethane/40 | Polyurethane/40 |
| solar collector rated pressure (MPa) | 0.6 | 0.6 | 0.6 | 0.6 | 0.6 | 0.6 | 0.6 |
| collector operating temperature ℃ | <100 | <100 | <100 | <100 | <100 | <100 | <100 |
| collector volume (L) | 0.69 | 0.98 | 1.15 | 1.27 | 1.50 | 1.56 | 1.85 |
| collector aperture area (㎡) | 1.0 | 1.5 | 1.8 | 2.0 | 2.4 | 2.5 | 3.0 |
| collector total area (㎡) | 1.56 | 2.30 | 2.74 | 3.04 | 3.63 | 3.77 | 4.51 |
| referral traffic (L/min) | 0.75 | 1.13 | 1.35 | 1.50 | 1.81 | 1.88 | 2.26 |
| intensity pressure (Pa) | 23.2 | 59.2 | 90.6 | 116.7 | 181.7 | 200.2 | 314.0 |
|  intercept efficient η0 | 0.744 | 0.744 | 0.744 | 0.744 | 0.744 | 0.744 | 0.744 |
|  heat loss coefficient a | 2.09 | 2.09 | 2.09 | 2.09 | 2.09 | 2.09 | 2.09 |
|  collector power (W)1000W/㎡ irradiation | 620 | 870 | 1047 | 1165 | 1401 | 1457 | 1748 |
| collector net weight (kg) | 38.25 | 50.75 | 59.75 | 64.75 | 79.00 | 83.35 | 98.70 |
| | 895 | 1270 | 1495 | 1645 | 1945 | 2020 | 1395 |
| | 800 | 1175 | 1400 | 1550 | 1850 | 1925 | 2300 |
| | 725 | 1100 | 1325 | 1475 | 1775 | 1850 | 2225 |
| c/2 (㎜) | —— | —— | —— | —— | 887.5 | 925 | 1112.5 |
| | 1980 | 1980 | 1980 | 1980 | 1980 | 1980 | 1980 |
| | 1240 | 1240 | 1240 | 1240 | 1240 | 1240 | 1240 |
| | 1470 | 1470 | 1470 | 1470 | 1470 | 1470 | 1470 |
| packing size (㎜) |   |   |   |   |   |   |   |
1,Solar collector manifold ; 1.1 Manifold shell; 1.2 Thermal insulation; 1.3 Inner tank;
2,Solar collector connector
3,Solar collector bracket
4,All glass vacuum tube; 4.1 Vacuum tube; 4.2 Aluminum fin; 4.3 Heat pipe