---
Adjustable frame solar collector
SC-HAJ
Send Inquiry
Share to:
---
Description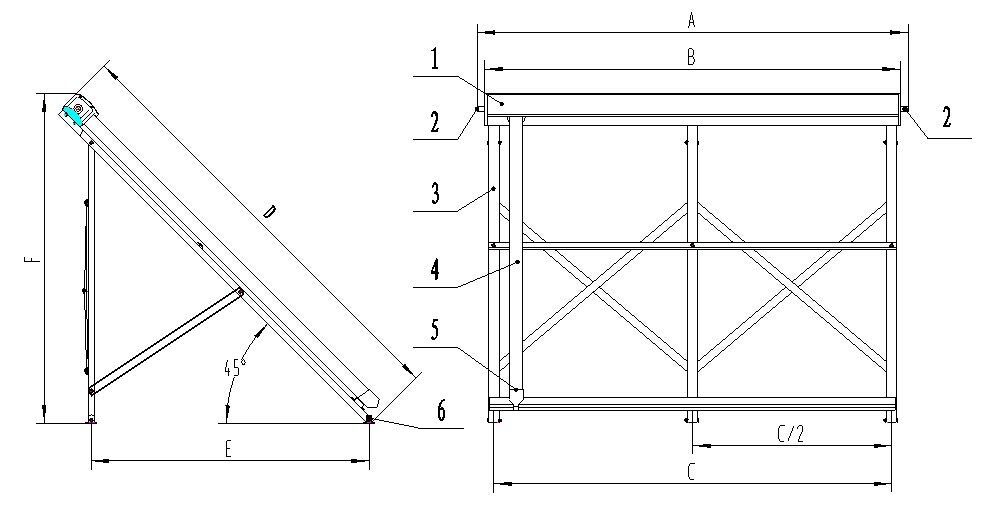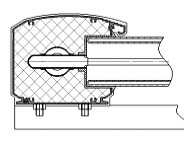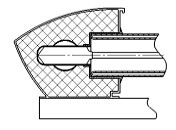 1,Solar collector manifold ; 1.1 Manifold shell; 1.2 Thermal insulation; 1.3 Inner tank;
2,Solar collector connector
3,Solar collector bracket
4,All glass vacuum tube; 4.1 Vacuum tube; 4.2 Aluminum fin; 4.3 Heat pipe
5,Tube holder
Detailed Product Description:
Advantage:
1) The Frame degrees can be adjusted to fit any latitude.
2) The manifold can be moved to left or right side to fit the different kinds roof styles.
3) The frame material can use the Aluminum alloy from 2.0-3.0mm.
 
Material:
1) Aluminum alloy for frame.
2) Rock wool for the installation. .
3) Tri-element vacuum glass tube. .
4) Antifreeze heat pipe.
 
Woking environment:
1) -40℃-300℃
 
Main feature:
1) The inlet and outlet be opened on the bottom of manifold; It looks more artistic than trandithional manifold;
2) Good sealed in end of cover, It can provide higher insulation efficiency;
3) The most advantage is that It can be Emptyed the medium(water or deicing fluid) in the manifold.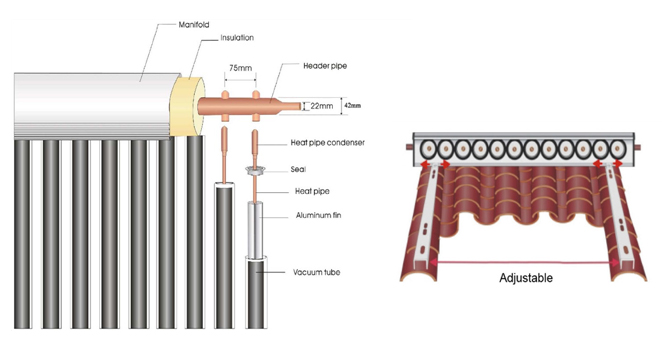 Technical Data:
| | | | | | | | |
| --- | --- | --- | --- | --- | --- | --- | --- |
| Model | SC-HAJ-10 | SC-HAJ-15 | SC-HAJ-18 | SC-HJA-20 | SC-HAJ-24 | SC-HA-25J | SC-HAJ-30 |
|   | SC-H1-10 | SC-H1-15 | SC-H1-18 | SC-H1-20 | SC-H1-24 | SC-H1-25 | SC-H1-30 |
| Vacuum tube quantity(pcs) | 10 | 15 | 18 | 20 | 24 | 25 | 30 |
| Tube spacing (㎜) | 75 | 75 | 75 | 75 | 75 | 75 | 75 |
| Vacuum tube diameter/length (㎜) | φ58/1700 | φ58/1700 | φ58/1700 | φ58/1700 | φ58/1700 | φ58/1700 | φ58/1700 |
| Vacuum tube material |  high borosilicate glass 3.3 |  high borosilicate glass 3.3 |  high borosilicate glass 3.3 |  high borosilicate glass 3.3 |  high borosilicate glass 3.3 |  high borosilicate glass 3.3 |  high borosilicate glass 3.3 |
| Vacuum tube inner/outer pipe wall thickness (㎜) | 1.6/1.8 | 1.6/1.8 | 1.6/1.8 | 1.6/1.8 | 1.6/1.8 | 1.6/1.8 | 1.6/1.8 |
| Heat pipe condensing end diameter/length (㎜) | φ14/1750 | φ14/1750 | φ14/1750 | φ14/1750 | φ14/1750 | φ14/1750 | φ14/1750 |
| heat pipe material/wall thickness (㎜) | Copper tp2/0.6 | Copper tp2/0.6 | Copper tp2/0.6 | Copper tp2/0.6 | Copper tp2/0.6 | Copper tp2/0.6 | Copper tp2/0.6 |
| inner tank diameter/wall thickness (㎜) | φ35/1.0 | φ35/1.0 | φ35/1.0 | φ35/1.0 | φ35/1.0 | φ35/1.0 | φ35/1.0 |
| connector size | φ22 or 3/4″ | φ22or 3/4″ | φ22or 3/4″ | φ22or 3/4″ | φ22or 3/4″ | φ22or 3/4″ | φ22or 3/4″ |
| collector insulation material/thickness (㎜) | Rock wool/40 | Rock wool/40 | Rock wool/40 | Rock wool/40 | Rock wool/40 | Rock wool/40 | Rock wool/40 |
| solar collector rated pressure (MPa) | 0.6 | 0.6 | 0.6 | 0.6 | 0.6 | 0.6 | 0.6 |
| collector operating temperature ℃ | <100 | <100 | <100 | <100 | <100 | <100 | <100 |
| collector volume (L) | 0.69 | 0.98 | 1.15 | 1.27 | 1.50 | 1.56 | 1.85 |
| collector aperture area (㎡) | 1.0 | 1.5 | 1.8 | 2.0 | 2.4 | 2.5 | 3.0 |
| collector total area (㎡) | 1.56 | 2.30 | 2.74 | 3.04 | 3.63 | 3.77 | 4.51 |
| referral traffic (L/min) | 0.75 | 1.13 | 1.35 | 1.50 | 1.81 | 1.88 | 2.26 |
| intensity pressure (Pa) | 23.2 | 59.2 | 90.6 | 116.7 | 181.7 | 200.2 | 314.0 |
|  intercept efficient η0 | 0.744 | 0.744 | 0.744 | 0.744 | 0.744 | 0.744 | 0.744 |
|  heat loss coefficient a | 2.09 | 2.09 | 2.09 | 2.09 | 2.09 | 2.09 | 2.09 |
|  collector power (W)1000W/㎡ irradiation | 620 | 870 | 1047 | 1165 | 1401 | 1457 | 1748 |
| collector net weight (kg) | 38.25 | 50.75 | 59.75 | 64.75 | 79.00 | 83.35 | 98.70 |
| | 895 | 1270 | 1495 | 1645 | 1945 | 2020 | 1395 |
| | 800 | 1175 | 1400 | 1550 | 1850 | 1925 | 2300 |
| | 725 | 1100 | 1325 | 1475 | 1775 | 1850 | 2225 |
| c/2 (㎜) | —— | —— | —— | —— | 887.5 | 925 | 1112.5 |
| | 1980 | 1980 | 1980 | 1980 | 1980 | 1980 | 1980 |
| | 1240 | 1240 | 1240 | 1240 | 1240 | 1240 | 1240 |
| | 1470 | 1470 | 1470 | 1470 | 1470 | 1470 | 1470 |
| packing size (㎜) |   |   |   |   |   |   |   |