---
Split flat plate solar water heating systems
SS-F
1.The solar collector and water tank can be placed separately, easy to install, easy for building integration.
2.The water tank is indirect tank with copper coil exchangers, completely solve the problem of collector in freezing and harsh water area.
3.Copper coil exchangers can realize the cycle for solar energy and the cycle for electric heater or gas for supplementary energy.
4.Reliable electric back-up with protection against dry heating and thermal cut-out.
5.With high quality flat solar collector and stainless steel water tank for long service life.
6.Totally copper flow channels achieve low defect rate and easy maintenance, long service life.

Working principle:
The SS-F series, in streamline closed circuit systems which are recommended for frost prone and poor water quality situations. Antifreeze fluid is used to circulation through the collectors. The heat collected from the panels is transferred from the fluid pipes to the water tank by a heat exchanger. The circulator is regulated by a control unit on the water heater. This ensures the optimum use of the sun's free energy. Copper coils exchanger can realize the cycle for solar energy and the cycle for electric heater or gas for supplementary energy to ensure you always have hot water on tap at any weathe
Send Inquiry
Share to:
solar flat plate
,
solar water heater
,
split solar heater
,
Split Flat Plate Solar Water Heater
,
Flat plate solar collector
,
Split Solar Water Heater of Flat Plate
---
Description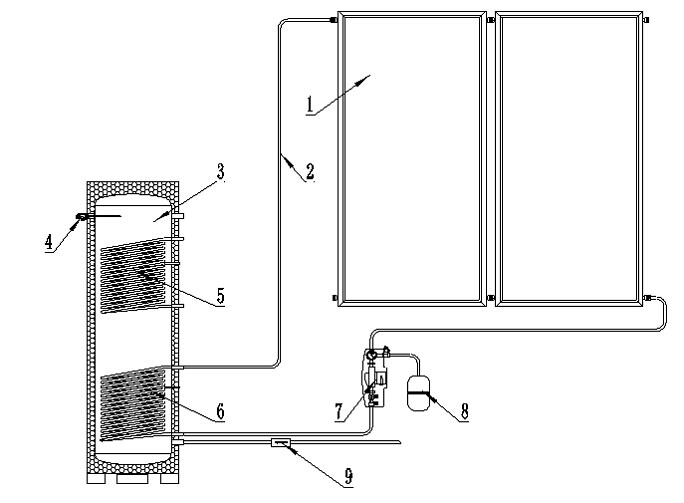 Structure:1 Flat Panel Collector;2 Circulation Pipe;3Water Tank;4 T/P Valve;5 Upper Copper Coil;6 Bottom Copper Coil;7 Work Station;8 Expansion Tank;9 Check Valve
1、 
Food grade stainless steel
SUS304-2B
inner tank
,
can stand
1MP
a
2、 
Copper coil as a heat exchanger with high heat transfer efficiency
。
4、 
High efficient flat panel collector with blue film absorber, easy to be installed and combined with the roof beautifully.
5、 
Integrated work station for temperature circulation makes the system efficient and energy-saving.
6
、
The position of water tank installation is unlimited, it can be installed according to the room.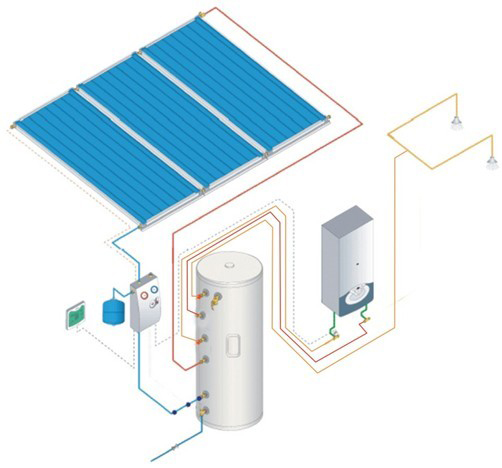 Technical  Datas:
 

 

 

 

 

 

Max Temperature of the System

The Recommend Pipe Diameter

 
Note:Mark number①can be customized to adjust the ratio quantity of collectors.